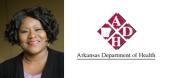 In 2013, SCLC commemorated its 10th anniversary by creating a top ten list of past achievements as well as emerging directions. One emerging direction SCLC has been focusing on this year is engaging those involved in caring for the justice involved populations. In early 2014, SCLC began working with the Arkansas Department of Corrections (ADC).
The Arkansas Department of Health (ADH) Tobacco Prevention and Cessation Program (TPCP) partnered with ADC and the University of Colorado Behavioral Health and Wellness Program to reduce smoking among the incarcerated populations in Arkansas. They have been addressing the population by providing training for counselors employed by ADC who work in the Therapeutic Community and Substance Abuse Treatment Program in order to integrate tobacco treatment as a component of their Therapeutic Communities. The incarcerated population is a group that must be addressed, due to having some of the highest smoking rates when compared to other marginalized populations. It is estimated that 80% of prisoners smoke, and offering tobacco cessation services would provide much needed assistance to this underserved population.
SCLC had the opportunity to speak about this project with Brenda Howard, TPCP Cessation Section Chief. Brenda oversaw the implementation of the project with support from the TPCP Cessation Health Program Specialist.
Click here to read the full interview.