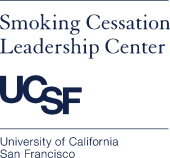 California's "UC Quits" is a health system change initiative with electronic medical records (EMR) modifications for tobacco assessment and treatment. Led by principal investigator, Dr. Elisa Tong, UC Davis established the first bi-directional eReferral with the California Smokers' Helpline (CSH) at UC San Diego.
This EMR modification allowed providers to effortlessly refer their patients to CSH and receive patient updates. UC Quits was designed to empower nurse and physician champions through a learning collaborative approach to scale-up across 5 UC Medical Centers (UC Davis, UC Irvine, UC Los Angeles, UC San Diego, and UC San Francisco). Since its inception in 2012, UC Quits has generated over 10,000 referrals to the quitline.

Building on the UC Quits model and opportunities through Public Hospital Redesign and Incentives in Medi-Cal (PRIME), the "CA Quits" pilot was launched in 2017. CA Quits expands across California targeting 37 safety net health systems participating in PRIME and creates multi-sector collaborative partnerships between health plans, providers, and public health. Through building relationships and awareness, assessing tech capacity, and providing technical assistance for tobacco quality metric and performance, this initiative aims to support and guide health systems to adopt the eReferral to the quitline model.
For more information please contact us or visit:
www.ucquits.com
www.caquits.com

Check out our latest webinar with Dr. Elisa Tong here.