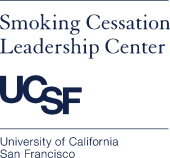 Q & A Session with Erik Augustson
Innovations in Tobacco Cessation Delivery: Digital Platforms
This webinar highlighted the use of digital health solutions to address some of the primary challenges in increasing reach and engagement for cessation services among adults. Dr. Augustson described the strengths and weaknesses of digital health interventions along with identifying multiple evidence-based smoking cessation services.
About Erik Augustson, PhD, MPH
Answers to our audience's questions:
Q1: This is really exciting work, I work for Public Health Wales and we are commissioning a mobile app for smoking cessation. One question I regularly get asked is about bio-chemical verification for smoking cessation and also how we monitor the treated smoker rate, how do you manage the data element for smoking cessation on a mhealth device?
A: Interesting question which highlights the challenges of implementing a large scale, population intervention program, and how the available data is not of the same caliber as that which comes from RCTs. There have been several studies of various mHealth resources which have used biochemical verification (e.g. cotinine) as an outcome. However, this is not feasible within the context of a clinical service due to cost, time, trying to get samples from individuals scattered all over the country, etc. Although it should be noted that cotinine measurement and other biochemical indicators is almost exclusively used in research setting, not clinical settings whether in-person or mHealth. As such, user self-report is our primary data source, and the response rates are often extremely low among free-range humans.
Q2: Your connection rate is high 3- 6 million users/year. What is your quit success rate?
A: Within research settings of various resources, our success for sustained quit rates ranges from 20-40% or higher. However, I firmly believe these outcomes are elevated by the artificial nature of clinical trials, the impact of screening criteria, and the difference in motivation between clinical trial participants and smokers in general. Based on our user data from people who enroll in the various resources, it appears our success rates range from 10-20% which I feel are more realistic estimates.
Q3: Great talk, Erik. I would like to hear your thoughts on a well optimized responsive site vs app? Do you find you are offering a limited subset of information? Bigger spend on DM as promoting two things? Can you share download stats? Would love to hear more about chatbots as well. What tech you are using, where you are looking to use this technology? Text, chat, elsewhere?
A: Thanks! Always nice to get positive feedback.
Mobile-optimized websites vs. smartphones apps is a great question and an ongoing debate within my team. Ultimately there are pros and cons to both, and the current leading choice within my team is mobile-optimized websites, with the understanding that sometimes an app is a better choice.
Here are some of the issues to be aware of:
Websites
Pros
-Less expensive to build
-Easy to maintain and updated. Changes in functionality and content go to all users when you make them live.
-An easier platform for large chunks of information, deeper dives into content
-Currently functionality allows you to do many of the same tasks as apps.
Cons
-Dependent on connection to the internet either from desktop or WIFI access. Cannot be used otherwise.
-Developing a secure user sign-in feature can be difficultly complicated, but without this, users cannot track data overtime
-Although can have substantial functionality, apps have much more capability
Smartphone Apps
Pros
-A huge array of functionality including geo and time tagging, passive and active data collection capability, can be highly interactive
-Can be used without an internet connection
-No need for sign-in function
-Can use push notifications to increase user engagement
Cons
-The initial build and upgrades are expensive
-Updates are only active if the user updates the app
-Must keep content brief
-People have many apps on their phones and only use a handful on a regular basis. They are easy to forget.
-Design team needs to stay focused on the clinical justification for interactive and other features, rather than just what would be cool to do.
Within SFG we use both mobile-optimized websites and smartphone apps without concerns that we are stealing business from ourselves. We believe, and could be wrong, that offering a variety of platforms allows users to choose the one they are most comfortable using so broadens our engagement.
Regarding chatbots, we explored a variety of software and chose motion.ai to build our bot on. The platform is built on Facebook Instant Messenger. About a year and a half ago, FB opened this platform to developers to build chatbots. The vast majority of applications are being built for commercial services. So our chatbot will be used within the FB IM context.
Many great opportunities using this technology, and also much work still needs to be done to learn how to best use this approach.
Q4: If I understood correctly, in the beginning of the presentation it was stated that the real strength of these interventions was integration with other clinical services. Later when looking at effectiveness it was with regard to using the interventions stand alone. Can you speak to the difference and/or relationship between the integration and stand alone?
A: Despite my strong belief that the best value of mHealth resources lies in integrating them into other clinical services, to date little work has been done using this type of integrated approach. Many population-level cessation programs include a variety of resources (quitlines, text, web), but currently efforts to use the programs in combination or with shared data has been only minimal. It is my hope that this is something that will soon change…maybe if I keep saying it would be a good way to go. 
Q5: What are some considerations when using/designing these tools for the mental health population? Thank you.
A: Given that in general the same strategies are effective for smokers with mental health diagnoses and smokers without, with the caveat that research suggests smokers with mental health diagnoses may benefit from additional support and structure, it seems likely that mHealth treatments should also be useful in these groups. Several ongoing NIH-funded research projects are exploring the development and testing of mHealth resources for behavioral health populations. Preliminary data is promising, and more work is needed. This may be a population where using mHealth programs to extend the clinical contact between quitline or face-to-face treatments would be useful.
Q6: If someone just uses the apps, but their withdrawals are too difficult for them and they need some pharmacological support. How do they get their prescriptions?
A: Your question highlights nicely the demonstrated value of combination pharmacological and behavioral treatment. Although we strong encourage the use of cessation medications, we unfortunately don't have the means to pay for and/or distribute medications. So smokers would have to acquire the medicines on their own.
Q7: Can you walk us through the steps of a health system or entity that has taken a smokefree.gov app and re-branded it with their organization for more local use? Has there been one that has done that and integrated with their own EHR.
A: The easiest way to do this is to simply take our app code and use it to build your own app, which you can then brand as your own (as well as make modifications that best match your needs). This has been done within a large health care system, a state department of health, and by several research teams which either included this as a comparison condition or integrated it into their treatment arm. To date, no one has integrated one of our apps into an EHR.
Q8: Could the SmokefreeTXT enrollment through provider intervention work with E-clinical works or is it written for a specific EHR system?
A: Our current EHR closed-loop feasibility project the Smokefree text program as the mHealth referral resource and Epic as the EHR. There would be program specific to each EHR provider platform (and in most cases specific to the healthcare system as well), however the fundamentals of the protocol should be the same.
Watch the full webinar recording here.