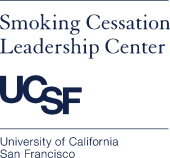 Are you interested in supporting your behavioral health organization in going tobacco-free, or enhancing your current policy and cessation supports? Need assistance in how to engage leadership, staff and clients around next steps?
The SAMHSA's National Center of Excellence for Tobacco Free Recovery (SAMHSA-CTFR) operated by UCSF's Smoking Cessation Leadership Center and The National Council's National Behavioral Health Network (NBHN) funded by the Centers for Disease Control and Prevention, are pleased to offer two free virtual trainings this August on creating and enhancing tobacco-free facilities to address the needs of individuals with behavioral health conditions. For participants who join the LIVE session on August 6th or August 12th, 2020, 4.75 units of FREE credit can be earned (see registration pages for specific guidance).  You will receive instructions on how to claim credit via the post training email.​
Join us and national subject matter experts for this new virtual training to support your efforts in establishing tobacco-free behavioral health facilities/grounds, integrating evidence-based cessation support for individuals with behavioral health conditions, optimizing NRTs and other pharmacological supports, and more.
Training Details and Registration
Please register for one of either of the sessions below*:
Creating and Enhancing Tobacco-Free Facilities to Address the Needs of Individuals with Behavioral Health Conditions.
Training #1
Date: Thursday, August 6, 2020
Time: 1:00 – 6:00pm EST
Training #2
Date: Wednesday, August 12, 2020
Time: 12:00pm – 5:15pm EST
*Please note, we anticipate limited capacity and encourage you to register as soon as possible. Available spots will be assigned on a first come, first served basis.
If you have any questions about the training and/or registration, please contact KC Wu at [email protected] for additional information.