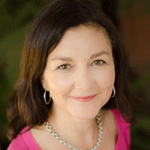 Deputy Director
(415) 502-4175
Catherine Bonniot (Saucedo) is the deputy director for the Smoking Cessation Leadership Center at the University of California, San Francisco. She works to assure the strategic goals and plans of the Center and its' partners are met.
A specialist in results-based accountability and partnerships for results, she brings to the Center a wealth of experience in organizational dynamics. Catherine has over 15 years of professional non-profit and for-profit experience in marketing, development, and operations. Starting with her work at the Museum of Fine Arts in Boston, and then moving west to Los Angeles and San Francisco, she has managed over one hundred non-profit marketing and fundraising campaigns, and raised millions in non-profit funding.
Ms. Bonniot's experience applies well to the social marketing work of the Smoking Cessation Leadership Center. Her specialized knowledge of information and referral systems ties to the SCLC focus of quitlines as a portal to cessation services in the community.
A graduate of L'Institut d'Aix-en-Provence, France, and California State University, Northridge, Catherine Bonniot received her bachelor of arts degree in French language and culture, with a minor in art history.