Image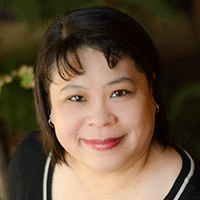 Staff Title
Partner Relations Director
Christine is the Partner Relations Director for the Smoking Cessation Leadership Center (SCLC) at the University of California, San Francisco. She is responsible for providing strategic leadership, management, administration, planning, and organization of all phases of the provision of outreach to accomplish SCLC's objectives across its local, state, and national network of partners. She also serves as the senior advisor to the deputy director on all aspects of SCLC's partnerships.
Working for the SCLC was a natural fit for Christine as she had firsthand experience of having a family member with lung cancer.
Prior to joining the SCLC in November 2007, Christine held several roles (project specialist, data/training specialist, research associate) at On Lok Senior Health Services and the Institute on Aging in San Francisco. She gained experience working in software training, data management, project/research administration, and meeting planning and logistics at a number of non-profit organizations.
In her spare time, Christine enjoys the wonderful, diverse activities in San Francisco.