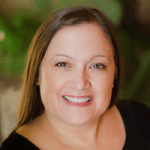 Operations Manager
(415) 502-8880
Ms. Jennifer D. Matekuare is the Operations Manager for Smoking Cessation Leadership Center at the University of California, San Francisco. As operations manager, Ms. Matekuare oversees the many projects, which are on the Center's schedule, assuring that every deadline is met. She streamlines and facilitates the day-to-day functions of the Center, to achieve its aims. Ms. Matekuare also manages the logistics for the webinar series and provides technical assistance to SCLC's partners.
Ms. Matekuare has more than 15 years of professional, non‐profit and corporate, experience in administrative support, project management and event planning. A graduate of the University of California, Santa Barbara, Ms. Matekuare earned her Bachelor of Arts degree in Law & Society.
She was inspired to make the transition to public health and work for SCLC, because she comes from a family of smokers. She has seen first-hand the damaging effect of tobacco, and wanted to be part of a team, which is working to end this epidemic.