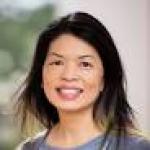 Acting Director
Dr. Pamela Ling is an internal medicine specialist and primary care doctor. She has a special interest in caring for underserved urban populations.
Ling's research investigates the intersection of tobacco use, media and social marketing as relates to young people. Her work focuses on understanding how tobacco marketing encourages youths and young adults to begin using tobacco, and how to apply the same strategies to improve tobacco control programs.
Ling earned her medical degree and completed a residency in medicine at UCSF. She then earned a master of public health degree from the University of California, Berkeley. She completed a fellowship at the UCSF Center for AIDS Prevention Studies.
Ling is a member of the American Public Health Association and Society of General Internal Medicine.